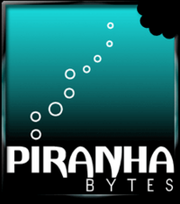 Piranha Bytes is a German video game developer, known for their Gothic series of video games.
History
On 12 October 1997, as part of the development of the video game
Gothic, the Piranha Bytes Software GmbH was founded by Alex Brueggemann, Michael Hoge, Stefan Nyul and Tom Putzki. In 1999, the Piranha Bytes Software GmbH became a wholly owned subsidiary of Phenomedia AG. After a financial scandal and the bankruptcy of the parent company in 2002 the rights to the Gothic video games and brands were transferred by MBO to the newly founded Pluto 13 GmbH.
All shareholders are employees of Pluto 13 GmbH.
On 22 May 2007, Piranha Bytes announced the separation from her former publisher JoWooD . The Addon Gothic 3: Forsaken Gods was the first game of the Gothic series not developed by Piranha Bytes. On 18 June 2007 it was announced that Piranha Bytes and Deep Silver (games label of Koch Media) will co-operate in the future.